McGuyver Refrigerator
by Harry Lythall - SM0VPO

Introduction
Maj-Lis and I love to take holidays abroad. We have often used package tours (charter resor) and more recently booking hotels as we go along without any definite plans. We have seen a wide variety of hotels, some better than others. If you were to take a look at www.hotels.com and sort by price, then you will notice that there are a few real dumps, but some very posh looking hotels, seemingly at very cheap prices. There is usually a reason why they are so cheap. We have found hotels in the midst of a derelict industrial estate (Elche, Spain), and many hotels are only accessibly via a motorway (Ialicante, Spain). But wherever go the cheaper hotels are always lacking something.
Here in Sweden nearly ALL hotels, even the more expensive hotels, do not have tea or coffee making facilities. In England even the cheapest little Bed & Breakfast have these facilities. But one item is seems to be absent in Spain, Baleric Islands, Turkey, Greece and many cheaper holiday resorts, is a refrigerator. In Spain you can buy a bottle of local Gin for US$8 but trying to keep that and the tonic water cool is not easy. If you have is a little McGuyver in you then it is an easy matter to have cool drinks. All you need is:
8 l (or 5 l will do) rectangular water bottle
The vife's scissors from her beauty box
A small hand towel, but a thick T-Shirt will do (cotton, not wool or nylon)
A fan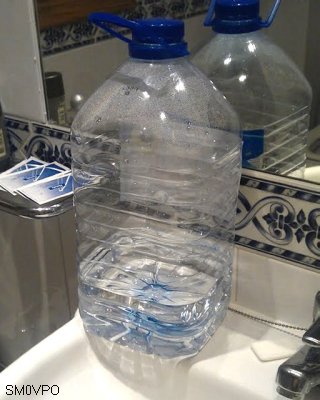 These are the bottle I use

Method
In these holiday places you have to buy your own water, but it is a lot cheaper to buy large bottle. Choose the ones in rectangular bottles. They usually come in about 8 l or occasionally 5 l bottles. The towel can be an ordinary hotel hand towel, but wait until the cleaners do the room and nick (steal) an extra towel from her trolley. You are not really stealing it 'cos you will be returnng it when the holiday is ended. Here's what you do:
Put the screw-cap back on the bottle, lay it on it's side
Cut out the side panel that is now at the top.
Stand your drinks and beer in the bottle
pour a litre of tap water into the bottom of the cutout bottle
Spread the hand-towel over the drinks and tuck it into the water around the drinks
If necessary pour a little water over the top of the towel so it is all wet.
Place the hotel-room fan so it blows air over the towel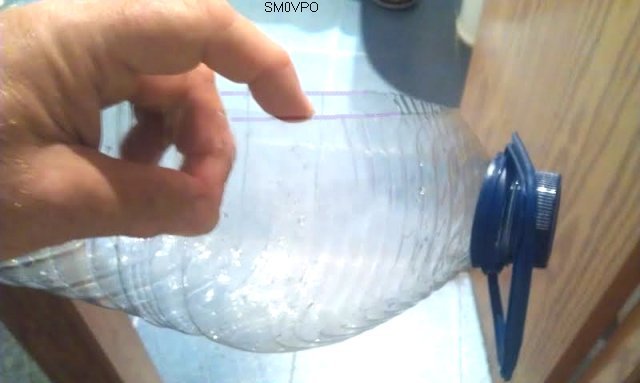 It is difficult to photograph, but here is the cut bottle
That's it! Now you just have to wait until everything cools down and you will have cold drinks after a few hours.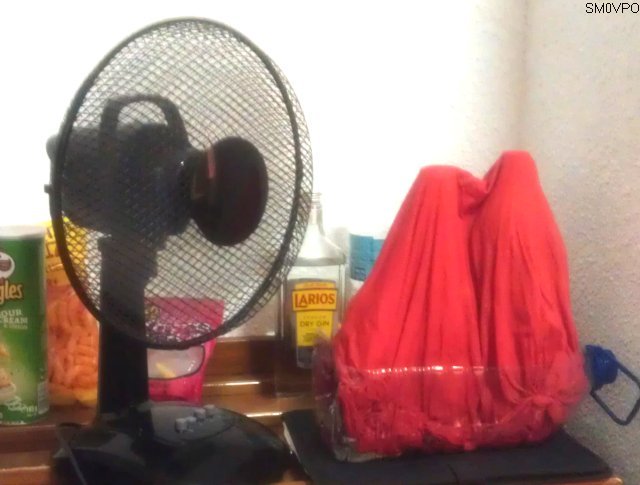 Here is the finished refrigerator. The fan also blows air onto the sleeping area :-)
The only thing we found was that you need a steady air flow. But if the fan blows too fast then the towel can dry out before capiliary action has a chance to suck up more water. If using a t-shirt that is too thin then it may dry out quite quickly but you can cut down the airflow so it does not dry too quickly. It is normal to require almost a litre of water a day.
It often happens that one refrigerator is not enough with 6 tins of St Miguel, one Coka Cola and one Tonic Water, so no problem - build another in front of the same fan.
You can even use this technique when you are on the beach and use seawater as a coolant. The wind will be sufficient if the refrigerator is placed under the beach unbrella. Maj-Lis and I usually have chilled wines and fruit on the beach. The last time we had a nice sparkling wine with strawberries, served in real glasses. I use a cardboard Whisky bottle tube to keep the glasses from breaking in transit.
If you do use seawater then it is a good idea to wash the towel or shirt in fresh water when you take your shower after the beach trip. Otherwise you get salt crystals building on the material and it does not look so fresh, especially is you have guests at the party.

Ok, so the next time you are on holiday and sipping chilled champagne on the beach from the McGuyver Refrigerator, give a toast to Maj-Lis because it was her idea :-)
Whatever you do, have fun. Very best regards from Harry - SM0VPO
Return to INFO page