FREQUENTLY ASKED QUESTIONS
of Harry Lythall - SM0VPO

I used to receive so much e-mail that I often had no time on the workbench. Some mail is funny, but this you will find in my FASQ pages. I separated them because there were so many. I no-longer update this page since the https://sm0vpo.forumotion.com messageboard was created.

When do you read your mail?
Q
I have tried to write to you several time because i have a problem with a schematic of a oscilator. This is the third time i sent it.
(no name given)
A
Hi,

First of all, let me point out that this is a hobby, and not a business. When you write to me I will try to answer your questions as soon as I can. But there are times when it is not possible to reply to you immediately. I used to check my
account every day, but unfortunately it is starting to get so full of SPAM and viruses.
I live in the country, and family life requires certain comitments, as I am sure you are well aware. These comitments I place far higher in priority than my hobby. If I have little time, then the hobby can wait.
My job sometimes requires me to travel abroad. When that happens I cannot read mail. When I go on holiday I only do those things that can be done with a wife, on a beach, in a bar, on a plane, or in a pub. E-mail is not one of those things. When I am abroad I sometimes visit the messageboard if I suffer from Internet withdrawal symptoms, and there is an Internet Cafe around.
I am receiving over 120 SPAM messages a week. If you want to write to me, then please use harryvpo @ sm0vpo.com first, because that account is receiving the minimum amount of shit. Please also do not forward the address, or put me on a mailing list. If you have a technical problem then PLEASE use my messageboard. And if you can help others on the forum by answering their problems, then that would be appreciated.
Very best regards from Harry - SM0VPO

Why do you not sell kits to Swedes?
Q

Harry,
Why do you not sell kits to Swedes? You live in Sweden. Postage is cheaper and more reliable. Do you not want to sell any kits at all?
Mvh Kurt
(I no-longer sell kits.)
A
Hi Kurt,

If I sell a USD7 kit (V4) to the USA then it costs me a little over USD3 in postage, and the customer sends me USD7 in nice banknotes: He sends me money, I send him a kit. This is just great: it covers my costs, envelopes and components, and a USD1 "thanks".
Swedes, on the other hand, refuse to put a banknote in the post. Swedes will quite willingly pay, pay, pay, and pay again, to all these "middle-men", such as "Svenskakassaservice" (the post office that does not sell stamps). It costs money; (USD6 for every transaction, plus another USD11 if it involves non-Swedish currency). It is no-longer possible to pay an electricity bill by cheque or cash. You have to pay it via the "Svenskakassaservice" (the post office that does not sell stamps). Ok, let me look at a couple of alternatives that Swedes demand:
POSTFöRSKOTT This is where you expect me to open (for a USD14 annual fee) a Giro account with "Svenskakassaservice" (tpotdnss). I then pay them USD7 to send the kit to you, and you buy it from "Svenskakassaservice" (tpotdnss), who in turn put the money in my account. Now I don't like this, because I only get about 2 Swedish enquiries a year, and I object to paying out money USD28 a year for the privilige of selling two kits.
AVISERING This is where you promise to pay me USD7, so you go to "Svenskakassaservice" (tpotdnss) and pay them USD12. They send me a chit for USD7, but I have to pay them USD6 to get it. Smart! (eller hur?)
I am not prepared to give away kits for free, and pay "Svenskakassaservice" (tpotdnss) for the privilige of doing it. I am not running a business, I "make" almost nothing. I pursue my hobby because I enjoy it, and I also get a kick out of seeing others get stuff working for the first time. If I sell one kit a month then I am happy.
As regards the cash I receive, I parcel it all up, once a year, and send it to my bank in England, where the charges are only USD2 to change the small amounts I handle, into English pounds. It is also why the V5 kit costs only £5, including postage: no exchange fees. It also explains why I can accept only USD and GBP.

Re: Kit Order
Q
Harry,
I thank you for reserving the kit, but your method of payment *cash* is not acceptable. Why cash? I will be sending you a personal check.
Regards Harry

A
Hello again Harry,
The Hamcom interface kit is only $10 to the USA, but if you wish to pay by check (cheque) then it will be $21. If you send me a check for $10 I cannot use it since it will cost me more that to get the money. I don't really make a profit, but I will certainly not give away kits for nothing. Sweden is a country where one does not ask the cost, except as a matter of interest. I have been told that it is my duty as a customer to pay up and shut up. But perhaps I had better give you a little information about Sweden.

Here in Sweden one cannot go to the telephone company to pay the telephone bill, one has to pay $2.5 to the post office or a bank to transfer the funds. One has to pay $2.5 to pay money into an account and another $2.5 to draw it out again. One can withdraw cash from a private account free using a "bankomart" card, but the card costs $11 per person per year. Most shops and companies (telephone, electricity etc,) will not accept a private check from a private person, but one may buy blank checks from the bank at $1 each, then it costs another $2.5 when it is processed.

Foreign checks cost $8 providing they are drawn from a "Swedish crown account", otherwise an additional $3 exchange fee is charged. Most Swedish banks now refuse to accept or exchange foreign currency. If, like me, you are NOT a banker, then we are both in the wrong trade! The Swedish post office do not accept the "IRC", and would you believe that many major post offices DO NOT SELL POSTAGE STAMPS!! I save the US dollars and send them once a year (by registered post) to my bank in England where they charge me only £1.5 to exchange any amount.
Best Regards from another Harry

Re: range
Q
Harry,
I still didn't get a good answer. I want to know what range I can get with a given RF power ie. how many kilometers per watt? Your V5 bug gived +10dBm, but what the hell is that for a power? Can you be a bit more specific?
Regards Confused
A
Hello again Confused,
Sorry, but perhaps I did not make myself understood. Anyone who can answer the question of "how far can I transmit with ... ?" can also answer the question "how long is a piece of string?". The transmitter output power only affects the radiated signal strength. The range is governed by many other things, including:
Receiver sensitivity
Transmitter antenna gain
Receiver antenna gain
The path loss between the two antennas
Transmitter power
RX SENSITIVITY - A receiver with a poor sensitivity needs a stronger input signal to receiver the transmitter. Use a radio with a poor sensitivity and you have no hope of getting a good range. For VHF FM broadcast then a receiver sensitivity of 20uV for 20dB quieting is Ok. 100uV for 20dB quieting is piss-poor but 5uV is not too bad at all.
TX ANTENNA GAIN - If you put the RX antenna inside a biscuit tin then you will not receive anything. Use a bit of "wet string" as an antenna and the results are better, possibly 1/100 of normal. Use a centre-fed 1/2-wave antenna and you are doing well. Use a 10dB gain Yagi and you can get 3x the normal range. Use a 50dB gain parabolic dish (eg. the Greenwich observatory antenna) and you can get possibly 300x normal range.
RX ANTENNA GAIN - see TX ANTENNA GAIN above and use exactly the same parameters.
THE PATH LOSS BETWEEN THE TWO ANTENNAS - This means that a transmitter operated in a coal cellar, cannot be received in another coal-cellar 10Km away. There is too much stuff to attenuate signals between them. Signals are attenuated by trees, soil, people, concrete, house-bricks, wet socks, atmospheric layers, metals, animals, busses, vegetation, cross-polarisation, or anything that obstructs the 0.6% first Fresnel zone (the thickness of line-of-sight). Don't forget that the "bulge" of the Earth is also significant in path loss calculations. If you want the path loss formula then Pl(dB) = 32.4 + 20 log(f) + 20 log(Km).
TRANSMITTER POWER - As the TX power reduces then so does the available signal strength for the receiver to detect.
To answer your question, add the path-loss + TX ant gain + RX ant gain + TX power - Fresnel zone occlusion losses. If the figure you get is greater than the signal sensitivity of the receiver then you will receive the transmitter. ie. if the receiver sensitivity was -100dBm and your final signal available was -120dBm then you are not going to receive the signal. Now, lets us give some practical examples:
Voyager II used reasonable gain antennas in space fed with under 10 watts (+40dBm) of RF power. The receiver antennas were huge parabolic dishes dotted around the Earth. They got 250,000,000 miles (400,000,000Km) or about 40,000,000Km/watt.
I transmitted from Haddenham to Royston (39.7Km) using 20uW (-17dBm) which equates to about 1,985,000Km/watt (this was using just 1/500th of the output power of the V5 microphone!).
I have reached over 900m using the V5 microphone with +10dBm output, received by a domestic receiver with good sensitivity. This is about 90Km/watt (if I had not run out of road I could have got more).
In conclusion, the distance you can get therefore depends upon your ability to reduce all the losses involved in the radio signal path, increase antenna gains and increase receiver sensitivity. Your V5 FM wireless microphone transmitter may give you as much as 500Km or only 5metres, depending upon where and how you use it. Try hanging it vertically on a bamboo pole by the antenna wire and place it on the roof of your home. Use a sensitive receiver with a 1/4-wave vertical antenna and you may achieve 3000-metres, depending upon terain. Now hide it inside the metal spring assembly of someones bed at ground level and receive it using a cheap insensitive receiver with a 20cm telescopic antenna in another room. You may be lucky to get 10-meters.
Power Decibels (dB) are 10x logarithm of the ratio between two powers. You cannot simply say a signal is XdB, that is meaningless (the Eiffel tower is 3 high). It must be related to another signal level (the Eiffel tower is 3x higher than the Blackpool tower). The common reference power levels are 1mW (0dBm) or 1-Watt (+30dBm or 0dBw). You can have anything as a reference, eg 1-volt (dBv), 1uV (dBuv), flatulence (dBf) for sound, or butterfly sneezes (dBbs) for mechanical power, any reference you want, as long as the reference source is known to the one who has to interpret your figures. You can, however, have a 10dB increase since this statement is comparative. As regards "what is +10dBm"; Ten milliwatts is +10dBm or -20dBw (dBwatt).
1mW = 0dBm = -30dBw
10mW = +10dBm = -20dBw
100mW = +20dBm = -10dBw
1000mW = 1-watt = +30dBm = 0dBw
10000mW = 10-watts = +40dBm = +10dBw
This all pretty basic stuff that you can get from your local library. I can not deliver more via E-mail and I am very surprised that I have devoted so much time to your question. I think I may use in in my questions page since this is a frequently asked question and perhaps others may learn from the answer.
Many thanks for visiting Harry's Homebrew Homepages.
Very best regards from Harry - SM0VPO

What are condensers?
Q
Hello Harry,
Nice homepage. I need to know the difference between a condenser and a capaciter and how you use them in radio circuits. Whats the diference? its ok for people like you that know these things but it is confusing.
Thanks a lot - Ted
A
Hello Ted,
A condenser is the old-fashioned name for a capacitor. The basic use is to hold a charge to condense the pulsed waveform from a rectifier to a steady DC signal or voltage, or forming tuned circuits. Condensers are still used by people (like me) who experiment with wireless. Those who experiment with radio tend to use capacitors. If you want to learn more then I suggest you go to your local library where I am sure you will find the answers to your questions. Many thanks for visiting Harry's Homebrew Homepages.
Best regards Harry - SM0VPO

AF Amplifier
Q
Dear Harry
I like your homepage very much and i have built two of the projects your kits, namely high-power BUG & the TDA7000 receiver. I have ben looking at your building blocks (misspelled) and think it would be good to include audio power amplifer to your collection of kits. I would like an easily constructed amplifier using comonly available components.
Please keep on the nice homepage - Winston.
A
Hello Winston,
And many thanks for taking the time and trouble to pass on a positive suggestion, I think that is an excellent idea. If you now look at my homepage you will see that I have indeed included an AF-amplifier kit capable of driving over four watts into a 3-ohm loudspeaker and it uses commonly available components. By the way - the miss-spelling is deliberate, in the interests of adding a little comedy. You are only the second or third person to notice it in a year. Many thanks for visiting Harry's homebrew homepages. Hope you have fun.
Very best regards from Harry

Help!!
Q
Hello Harry
Where did you learn all this stuff? Can you show me how to be a good home constructor? I am good at receiving lessons.
Best wishes - Rannug
A
Hello Rannug,
Firstly, I am not good, I have just writen a homepage about the little I do know. The more I learn then the more I realise how little I really do know. My advise to you is to simply build what you want to build. When it does not work then find out why, experiment a little, blow up a few transistors, wind a few coils. Build a couple of kits to start with (eg CirKit from my links page). Unfortunately I am almost 50-years old so I have blown up a fair share of components and that is all experience I cannot send you by E-mail. The most important thing is to have fun.
Very best regards from Harry - SM0VPO
The first step to learning is the knowledge that you need to learn.

FM Wireless Microphone Stability
Q
Hi Harry
I would like to add a radio frequency crystal to the FM Wireless Microphone project to improve the frequency stability. Could you please advise me as to how I could do it?
Regards from Fred Smith
A
Hi Fred,
There are two ways, replace the 2p7 capacitor with a 5th-harmonic crystal and it will oscillate at the crystal frequency, if the 12p and the coil are tuned to the crystal frequency. The second method is to remove all components from the base circuit and add only 2x47K resistors, as in the FM Mic V4 circuit. Add the crystal from Base of the oscillator transistor to ground. If the 12p and the coil are tuned to the crystal frequency it will oscillate.
WARNING
You will not be happy with the results. FM means Frequency Modulation, this means that the carrier frequency is modulated +/-75KHz (a total of 150KHz). If it is crystal controlled then this will not be possible, in fact it will be impossible to modulate.
If you want crystal stability FM transmitter then you should make a 10MHz VFO with FM capabilities and mix this with a 90MHz crystal oscillator. After the ballanced mixer you will need to filter the wanted signal to remove all unwanted mixing products, then amplify the wanted signal to a working level. This is how many commercial circuits operate, but they cost hundreds of dollars. Now you know why. This project is supposed to be the simplest TX for newcommers.
Very best regards from Harry - SM0VPO

Help?
Q
Dear Harry,
I am having trouble making boards that work I have not succeeded to build your FM microphone because the board kopper is coming of all the time. Other kits I have built are the same but some are worse than others som just form bubbles in the kopper like in wet wallpaper. Can you tell my why? Is there something I must knoe?
From Karl, SMXXXX
A
Hello Karl,
It sounds to me as if you are using a soldering iron that is not designed for electronic work. You should use a soldering iron of about 15 to 25-watts, such as an Antex or Weller. The temperature should only be about 300°C to 320°C or so. Give me a call on 08 XXXXXXX after 6-0-clock and we can discuss it. If you want we can take it in Swedish.
Very best regards Harry - SM0VPO

Which ASTU?
Q
Hi Harry,
Can you tell me what kind of ASTU works the best for HF QRP work? I need to get my VSWR down since it is about 2.5:1 and I have seen so many different designs I am becoming confused. By the way, I like your homepages very much and I will continue to visit them.
Regards from Patrick
A
Hi Patrick,
The best way to couple a signal to an antenna is direct and without the use of an ASTU (ATU) since an ATU works on the principle of two wrongs making a right. Any passive decice has a loss. A VSWR of 2.5:1 also means that less than 20% of your signal is wasted. This is just a bit more than 1dB or a very small fraction of one S-point at the receiving end. Unless you are chasing real DX then it may not even matter. To correct it then adjust your antenna length a little. Many thanks for visiting Harry's Homebrew Homepages.
Very best regards from Harry - SM0VPO

Q
Hi Harry,
Wow!! What a great homepage you have. I have added a bookmark to your pages and will visit them regularly. I really need the circuit diagram of a VHF FM Transmitter for Wide-Band FM in the frequency range of 88MHz to 108MHz. It should be crystal controlled and have a minimum output power of 50 watts into 75 ohms. Please E-mail it to me.
A
All the circuits I have in electronic format are on my homepages. Those that are not in electronic format I am unable to send to you. Many thanks for visiting Harry's Homebrew Homepages.
Best regards Harry - SM0VPO

Suggestion
Q
Hi Harry,
I have just been visiting your homepages for the first time and I must say that they are very impressive. I particularly liked the article regarding the synthesised receiver but unfortunately the two linear chips you quoted are difficult to get here. Have you ever though of using common 4000 series CMOS chips? The 4046 and 4059 make a good team for this application.
Best regards Bob
A
Hi Bob,
What an excellent idea! As a matter of fact I have designed a CMOS synthesizer many years ago whilst I was working in England using the CD4060, CD4046 and CD4059. If I can dig out the original PCB foil pattern I used then I will indeed document it and place it on the home pages. Very best regards DR Bob and many thanks for the suggestion.
73s de Harry.

No Title
Q
What is the best RX?
Answer please.
A
Racal RA17 or RA117. Ok?

Suitcase security
Q
Helly Mr Lythall,
I am a fifth year student studying radio and electronics. My end of term project is to design and build a short distance radio transmtter that can be used in a suitcase so that if the suitcase should become further than about 15 metres away from me (if stolen for exampel) then the receiver alarms. Unfortunately I am not very good at designing so I wonder if you could design such a project for me? Please E-mail to me the circuit diagram and the PCB foil and I will be very gratefull.
Regards Gxxxxxx
A
Dear Gxxxxxx,
All the circuits I have in electronic format are on my homepages. Those that are not in electronic format I am unable to send to you. Many thanks for visiting Harry's Homebrew Homepages.
Best regards Harry - SM0VPO

Inproved BUG
Q
HI Harry,
I have been visiting your homepages for some time now and I have been very impressed with all the new ideas you have given me. Your BUG is very interesting and I want a circuit to make it more sensitive so that I can pick up sounds from ten feet and give out more power. A 5Km range would be about ideal.
Best wishes from Fxxd
PS How do I connect it to a telephone line?
A
Dear Fxxd,
Many thanks for visiting Harry's Homebrew Homepages. Unfortunately the "BUG" as you call it is an FM Wireless Microphone that is intended to be a toy or a constructional article to fire the interest of newcomers to homebrew. It is most definately NOT in any way intended to be used for eavesdropping. The microphone sensitivity is deliberately low so that you have to talk to it as you would with a normal microphone.

You should NOT attempt to increase the range since most countries have very strict laws about these devices and eavesdropping. You may notice that many toy stores sell such devices but they are not considered as transmitters due to the small radiated power. If you increase the radiated power then you could find yourself in "deep shit" and your transmitter could even become more noticeable to your neighbours and other band users. I am sorry Fxxd but I cannot (and will not) help you with the information you seek.
73s de Harry.

FM Wireless Microphone
Q
Hello again Harry,
I have built your FM Wireless Microphone and it worked perfectly after I located the frequency. As described it originally operated around 115 mHz and I had to increase the tuning capacitance a little to find it on my FM radio set. I have now built the PCB version and this operated at 106.7 mHz imediately, exactly as described. Could you please advise me if anything can be done about the following:

1. Both versions seem to be a little unstable in frequency.
2. The basic version (not the PCB) is also very sensitive to vibrations.

Very best 73s and thank you for the information you are putting on the net.
A
Hi OM (I didn't get your name),
I am very please that you liked my homepages and that you have had some success with my projects. As you may appreciate, a VHF L/C oscillator is unstable by definition. There is no way you can connect an antenna to a tuned circuit and not get some change in frequency. If you reduce the coupling to the antenna you will improve the stability but reduce the radiated output power. I will update the homepage project with pictures of the mods to the PCB version, but it should not be necessary if you are using a receiver with AFC.
attach - bug-pik.jpg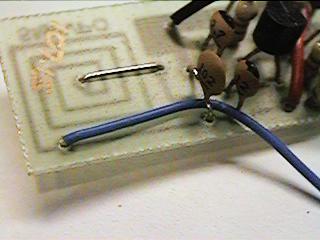 The basic version of the Wireless microphone uses a coil which is a spring. This will vibrate if not supported and copper wire will also expand with temperature. This makes the Basic version both unstable and microphonic. This is also why I recommend the PCB version. If you were to get your wife to wind the coil for the basic version then it would very probably operate at 84MHz or anywhere between 84MHz and 115MHz. Again I recommend the PCB version.

Many thanks for your feedback, I will make an addition to the FM Wireless Microphone in view of your comments.
Very best regards from Harry - SM0VPO

Have fun, de HARRY, Lunda, Sweden.
Return to INFO page