PCB VIDEO ON CD-ROM
by Harry Lythall - SM0VPO

Once again E-Mail prompted me to create yet another project. This time a full video film "PCBs My Way" on CD-ROM showing you how I make my own Printed Circuit Boards using photo-etch techniques. The video does NOT, however, include creating the artwork.

Unfortunately, computers being what they were, the "uncompressed AVI" video file seemed to be non-compatible with many computers. For example:
- a 700Mbytes file was too large for many computers!
- 25fps was too fast for many computers to view.
- Many people wanted the file converted to MPEG1.
- Many people could not view MPEG1.
- Several people said the picture was too small.
Today, computers have improved and most people have DVD readers. I am presently working on a VCD (700Mbytes DVD). I have already succeeded creating the PAL version at 25fps, 720 x 576 pixels. I am presently working on the NTSC version at 30fps, 720 x 480 pixels, but I need to extend my software licence (yet more money!).
Ok, so here are two frames (actrual size) from the (PAL) video.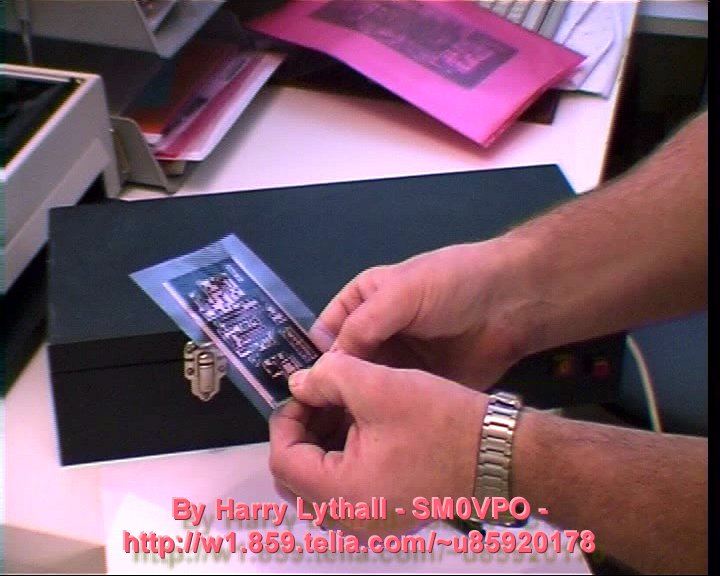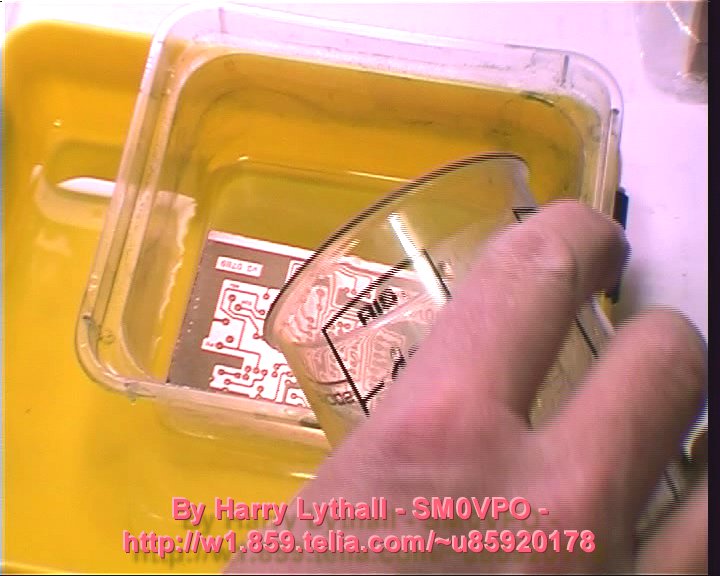 (The "hatching" effect (the rim of the container) in the second picture is because I didn't bother to de-interlace when I exported the frame. The hatching is due to movement.
Watch this space for more information as it unfolds (very slowly these days). But, if you want a copy of the CD-ROM then I will asking US$10 including postage but PLEASE E-mail me first to check availability BEFORE sending money. I will send you confirmation that there is a CD available for you. Then send cash to:
Harold Lythall,
Västanlid, Lunda,
195 93 Märsta,
Sweden.
Please note that I CAN ONLY ACCEPT US$ and SEK banknotes, otherwise I have to pay US$10 to the Swedish banks for the privelige of exchanging other currencies, cheques, drafts etc.

In the video I use specific chemicals, but there are a variety of other chemicals that may be used. For example, you can etch copper boards using a strong solution of Ferric Chloride, but I use a mixture of 10% Hydrochloric Acid + 10% Hydrogen Peroxide. I have even heard of using HP-Sauce and Coca Cola as etchants. I have never tried using HP-Sauce, but Coca Cola works, albeit a bit slow (2 days). For more information on chemicals, then see the other PCB projects on my homepages. I hope that you have fun and find the video interesting. If there is sufficient interest in this video then I may make more of them, to include other aspects of homebrew, such as tools and soldering, construction techniques, fault-finding, oscilloscopes, distilling alcohol, sex, etc.

Copyright
THE INFORMATION AND MATERIAL PROVIDED ON THE CD-ROM HAS BEEN CREATED BY HARRY LYTHALL (SM0VPO) WHO RETAINS OWNERSHIP AND ALL AUTHORS RIGHTS TO THE WORK. UNAUTHORISED PUBLIC PERFORMANCE AND COPYING ARE EXPRESSLY FORBIDDEN. BY PURCHASING THE CD YOU WILL NOT BE PURCHASING THE RIGHT TO COPY, PUBLISH OR OTHERWISE DISTRIBUTE THE WORK.

Best regards and have fun, from Harry - SM0VPO
Return to INFO page